I've written on a number of health issues but usually from the perspective of an observer, outside looking in albeit I've had my own brushes with ill health and chronic lifechanging conditions that I am surviving rather than rid of. This is a piece from the perspective of the patient or more accurately a person with insight into their own health and taking responsibility for it themselves. What seems obvious is that Sylvie passed from the feeling we all have when we are young, that we are invincible and immortal but worry about things like our body image when instead we should be investing in our future health by avoiding this stress and damaging our long term health by smoking, a poor diet etc. Wouldn't it have been good if we could practice what we preach to our younger selves and avoid the impossible "Give me just five years" deal with our chosen deity or 'the universe' – It is US that needs to listen to ourselves and Sylvie – but if not surely our children and grandchildren. I've written a number of blogs on nutrition which you can search for in previous posts '10 ways to improve your nutritional health as you age' – there are 10. You might also search 'Health' but here are a few more too. 
Why everyday stress could be the key to a healthy old age (…or not?!)
20 tips for a happy retirement. #11 – Go for a health check
For decades Sylvie Boulay agonised about her weight, happy when it fell, miserable when it rose. After two brushes with death, she has finally found peace
Sylvie Boulay was in her 60s when she finally fell in love with her body. Growing up in Paris, she felt that her shape didn't fit. At ballet class, the girls were slim and long-legged. From her mother, and society, she acquired "a very strong feeling that French women had to look a certain way". It took a long time – decades, she says – "to realise there was nothing wrong with me".
Boulay, who is now 71, packed her bags the day after she got her baccalaureate results and moved to London. She had visited England each summer to learn the language. By the time she was 18, she had friends there, and a boyfriend. Studying economics at UCL, she was free of the French dress code, but "in an environment with lots of young women who worried about their weight. I had friends who were dieting and friends who had eating disorders," she says.
"I would define myself by how much I weighed. I felt good with my body at a certain weight and terrible at another. I yo-yoed between feeling I was slim and feeling I was fat." Over the decades – through two marriages, two divorces, three degrees, a career in housing, counselling, then addiction counselling – the dial on her scales pinged between 9 stone (57kg) and 14 stone (89kg).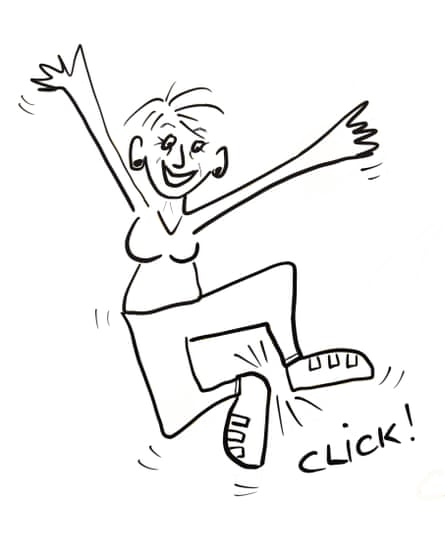 Then, in 2005, Boulay was diagnosed with blood cancer. A friend who worked in palliative care asked her favourite doctor to speak with Boulay, then 54. The doctor explained that "she didn't look at blood test results first. She always checked how the person felt. Her advice was: 'Trust your amazing body.'"
At the time, Boulay felt so vulnerable that those words didn't resonate. "I went through all sorts of emotions – panic-stricken, thinking 'I'm going to die, terrible things are going to happen to me, it will turn into a much worse cancer.'" But she came through it.
Just before her 60th birthday, she learned that her daughter was pregnant, and decided to move from the Midlands to London to be nearer her. That same year, she was diagnosed with breast cancer, and went into "panic mode" all over again. "I made a deal with the god I don't believe in: 'Give me just five years – but, if you can, 10 would be even better.'"
That was 12 years ago, "and the drama has long passed", she says. Her treatment was minimal and effective. She takes a daily chemo tablet. But something much deeper has shifted in her relationship with her body.
She visited the gym, found an adult ballet class, tried tai chi, and continues to join parkruns near her home in north London. "I really feel that my body needs movement," she says. Helping to look after her granddaughter has kept her on her feet, and she has made friends through Parkrun. "It's changed my social life."
Most of all, she says, she has "a growing admiration and respect for my amazing body". She uses the cognitive behavioural therapy (CBT) that she practised when working with people with addictions to help herself. "Instead of feeling vulnerable, I now feel my body is strong and resilient – and something to be admired," she says. "My body is doing a grand job."
In her addiction work, Boulay had been fascinated by "the principle of natural recovery", when people get better by themselves. Sometimes, she says, a life event can "tip the balance". Is that how her relationship with her body changed too?
"Absolutely," she says. "Because it wasn't a diet or anything. It was just the importance of keeping fit so I could … saying 'keep alive' is really dramatic. But I guess I had a special reason to stay alive, because of my family, and I knew that not being fat, and moving, was going to help me."
She wrote a CBT manual for people who struggle to stick to diets, and now she is working on a graphic novel to "tell what it is really like to be an old woman – the joys and the horrors".
These days, her weight fluctuates on a much smaller scale. Besides, she says. "I'm much less focused on how I look. I am more interested in my voice and having something to say. The limits aren't there in the same way."